And so it begins...
I was doing a cleanout in the workshop over the weekend and I came to the conclusion that I needed to sort out the crap that was stored in the shed. This way I can put some things that are taking up room in the workshop into the shed and have some room to work on the many projects I have going on at the moment.
Anyway, while I was sorting out all of the parts in the shed, I became sidetracked and thought I should get all of the parts I have accumulated for the 26/30 build onto the 30 block so I can see if I had anything I needed to purchase to get the ball rolling. I started bolting everything onto the 30 block that I needed, and everything that was not required has either gone into off-site storage or has been tossed into Kyle's Terrano 4x4 donor vehicle. Needless to say, the donor vehicle is now overflowing with old unwanted parts, the scrap metal merchant is going to love this one.
As it turns out, I have enough parts to assemble the engine to the point where it can be dropped in. Now don't get me wrong here, it ain't gonna happen. I will need to purchase forged internals, manifold, turbo, etc... Get the hint? I have everything else needed other than the goodies.
I now have a lot more room in the storage shed so I now have 2 RB's on engine stands side by side in the workshop ready to work on - The other RB being Luke's 25 rebuild. This is not going to happen overnight, nor within the next few months so don't get your nipples hard just yet. I have the 25/30 to finish because driving around in that car with a pissant turbo on it is just so saddening. I just want to open it up and flog it, but I know if I did, either the turbo would let go or the engine would detonate. I HAVE to finish this one off before I finish this 26/30.
Dribble, dribble, dribble..... Yeah I know what you're asking - Why the fuck is he starting this thread now when he intends on not doing anything? Well Mr. Smarty Pants, I didn't say I wasn't going to do anything at all. I have to break down the now assembled engine, send things off to be machined that I cannot do here, sandblast, acid dip, paint, etc... Got it? All the while I will be purchasing parts to finish off the 25/30.
So, here's a couple of shitty iPhone pics of the assembled engine so far, and when I have some more free time I will endeavour to disassemble it and start cleaning and modifying things. Hang in there!
Day one: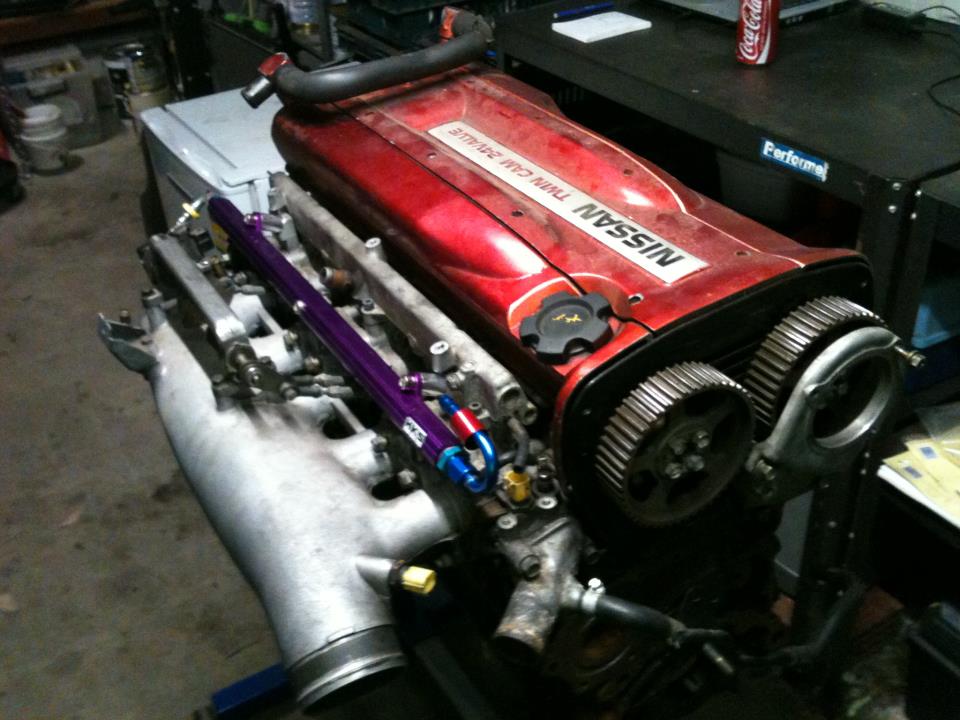 Day two: