Nissan Skyline R32 gts4 (1991)
Vehicle Owner
jordy86
, 20 September 2010 - 07:10 PM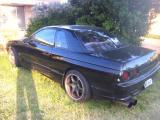 Vehicle Owner:

jordy86

Date Added:

20 September 2010 - 07:10 PM

Date Updated:

20 September 2010 - 07:20 PM

Color:

black

Views:

1433

Price:

$ 15000

Odometer:

130000 Kilometers
Geat sleeper. Looks standard but goes like the wind. ran a 12.8 down the quarter mile but not happy with that at all. I was having slipping clutchs, grinding gears and shit tyres. Currently cruising with 387 rwhp. Bought for $15000 spent over $20000 easy on it not including tyres
RB25 engine - standard internals
Sard 850cc injectors
Splitfire coils
Ngk plugs - gapped to perfection
6 boost high mount manifold
gt35/40 with small rear housing
tial external gate plumbed back into the exhaust
No bov- the way it should be
high flow cat
2 1/2 inch exhaust through to twin pipes in the rear
haltech e11 v2 ecu
blitz dual solenoid boost controller set to 23psi
front mount intercooler.
no real body work done except a natural coat of dust an dirt to give it the real sleeper look.
SSR light weight racing rims 17"x9" all round
N1 coil overs front
Shitty worn out coil overs in the rear-soon to be changed
complete working 4wd system including hicas which has gotta go
basic stereo
boost gauge fitted into heater vent
sunroof
that sums up my car for now.
The car still feels slow so more upgrades to follow
64

Owners

98

Vehicles

279

Modifications

298

Images

240521

Views

37

Comments
Viewing Garage

Nissan Skyline R32 gts4 (1991)