Nissan HCR32 Sedan (1989)
Vehicle Owner
2LV8ETR
, 28 September 2009 - 05:36 AM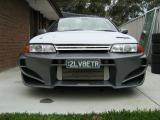 Vehicle Owner:

2LV8ETR

Date Added:

28 September 2009 - 05:36 AM

Date Updated:

15 June 2010 - 04:51 PM

Color:

Grey

Views:

2777

Price:

--

Odometer:

--
Engine/Drivetrain Modifications:
Custom T3/T4 built by Per4manz.
Split 3"/2" dump pipe to cat.
High flow 3" cat.
Stainless 3" exhaust.
Oil/air separator.
GT-R injectors modified to RB20ohm.
Malpassi rising rate fuel regulator.
Walbro 455hp in tank fuel pump.
HKS pod filter.
FMIC.
GFB Hybrid BOV running 50/50.
50mm Aluminium radiator.
Twin thermo fams.
Single piece tailshaft.
Electrical Modifications:
Chipped ECU.
SplitFire ignition coils.
7/28psi "happy switch" boost controller.
Pivot shift lamp.
Interior Modifications:
GT-R front and rear seats.
GT-R gauge cluster.
Tomei 300km/h speedo
Nismo steering wheel.
Nismo short shifter.
Stainless steel dash cluster backing.
LED lighting system.
AutoMeter boost gauge installed in RHS vent.
English translated fusebox lid.
Exterior Modifications:
R32 GT-R VeilSide front bar
Z32 VeilSide side skirts modified to suit sedan.
R34 Bomex rear over-bar modified to suit.
Integra VeilSide rear spoiler modified to suit.
Rear diffuser.
Godfather 18" deep dish rims.
GT-R grill.
GT-R back-vented FRP bonnet.
GT-R headlights.
Suspension Modifications:
Front strut tower brace.
HKS Hyper-D coilovers.
Concentric camber kit.
64

Owners

98

Vehicles

279

Modifications

298

Images

276259

Views

37

Comments
Viewing Garage

Nissan HCR32 Sedan (1989)