Nissan Skyline R33 GTS-T (1995)
Vehicle Owner
Bella <3
, 23 January 2010 - 04:41 AM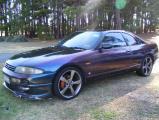 Vehicle Owner:

Bella <3

Date Added:

23 January 2010 - 04:41 AM

Date Updated:

11 June 2010 - 11:46 PM

Color:

Harlequin + Black+ Flake

Views:

2295

Price:

$ 9000

Odometer:

136000 Kilometers
Greddy FMIC
POD
Aftermarket Alarm
Turbo Timer
19" 245 tyres + 5 spoke Rims
Aftermarket Front Bar
Aftermarket Autotechnica Steering Wheel
Pioneer touch screen DVD/MP3/Ipod/Tuner stereo
Alpine Amp + Kicker Subwoofer (stereo system worth $4000)
Darkest Legal Window Tint
Custom Plates [sammmy]
Greddy Boost Controller
Autogauge Boost Controller
Things I will be doing/installing in the next few months;
New front brakes - installed & upgraded
New Rear brakes -installed!& upgraded
Turbo Boost Controller - installed!
Boost Gauge -installed!
Pink Neons Inside & Outside - Being installed 21/6
Finish full body kit - side skirts and rear bumper
NEW paint job!! (will no longer be sparkley)
Repair to body work, front bar cracks
New custom steering wheel
Replacing the very worn out front bushes
Replacing the wornout front tyre rod ends
updating headlights to HID's/ Angel Eyes -still deciding
NEW BOV, getting rid of standard one
Repairing the sump - DONE!
Drivers side electric window motor needs replacing - being replaced 19/6.
64

Owners

98

Vehicles

279

Modifications

298

Images

266511

Views

37

Comments
Viewing Garage

Nissan Skyline R33 GTS-T (1995)