Holden HG Kingswood (1971)
Vehicle Owner
HGHybrid
, 17 October 2011 - 12:19 PM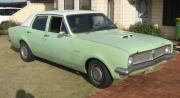 Vehicle Owner:

HGHybrid

Date Added:

17 October 2011 - 12:19 PM

Date Updated:

17 October 2011 - 12:27 PM

Color:

Cascade green

Views:

1216

Price:

$ 3800

Odometer:

145000 Kilometers
I got it 4 years ago fitted with a 308 from a VH, trimatic, duel fuel but it wouldn't run on petrol. Fixed it (carby kit) and ran it as it was for about a year until it fried the valves, and so the engine rebuild began.
Old motor was sold off and I got a virgin 308 from a WB gave it a warm rebuild under the back patio with help from G.T.S. Engine Reconditioning in Bunno who did all the machining and Sean from Adrenaline Performance & Fabrication who fitted and dialed in the cam and gave me great advice as always.
It now runs a dedicated gas system with a 4 barrel gas carby, rebuilt truamatic and still sports the original 6 cly bango diff, but that will be rectified.
Bodywise it's a rat but slowly getting done a bit at a time.
Plans are a set of crager smoothies and sprayed in VE Morpheus (purple/blue) keeping the white roof (slight purple pearl). Currently has one GTS guard in place the other is still at the panel shop (don't ask).
I have also made a custom heaterbox with electric heating elements and fans as I don't like running water from the engine into the cabin.
64

Owners

98

Vehicles

279

Modifications

298

Images

247016

Views

37

Comments
Viewing Garage

Holden HG Kingswood (1971)