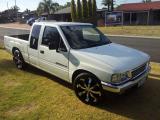 Vehicle Owner:

LJ_Rodeo_302

Date Added:

09 September 2011 - 10:01 PM

Date Updated:

03 December 2011 - 09:15 AM

Color:

White

Views:

3410

Price:

$ 1300

Odometer:

--
Newly acquired holden rodeo for moving my bikes around, so far its got the flash new front end on it instead of the bull bar, some hell sick moto X stickers! Window tint, back window and rears are limo tint, the doors are midnight, its got hell sick sunraiser 4wd rims, soon to be 18's, its got altezza tail lights on the way and also got a new piazza turbo manifold and turbo on the way, just waiting for delivery!!!!!! should make it fun to drive.
Inside has a JVC deck, 6" fusion splits in the front, 6" rockfords in the back, 2 12" S Type subs, and 2 V12 amps ( subs and amps from my lj about 10 yrs old and they still crank!!)
64

Owners

98

Vehicles

279

Modifications

298

Images

246913

Views

37

Comments
Viewing Garage

Holden Rodeo (1989)